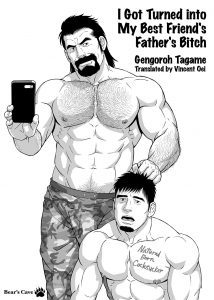 I Got Turned into My Best Friend's Father's Bitch
English
PDF Edition
E-book: 65 pages
Publisher: Bear's Cave (April 2, 2021)
Language: English
Art & Story: Gengoroh Tagame
English Translation: Vincent Oei
College boy Akio Shima was stunned by huge bulge of his best friend's dad, Ryuhei Doko's crotch. Ryuhei plumbed Akio's nature, started to treat him as a bitch, and renamed him as Akemi, like a girl…

[CAUTION] The story includes humiliations and offensive words.

This story was first published on Badi magazine from 2018 to 2019. The sequels are being randomly serialized on FANBOX (https://gengorohtagame.fanbox.cc/).
You can purchase and download it (PDF) from the links below.
Booth >> https://tagame.booth.pm/items/2849790
Gumroad >> https://gum.co/szpHL
DLsite >> https://www.dlsite.com/bl/work/=/product_id/RJ322775.html