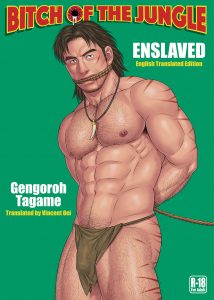 Bitch of the Jungle – Enslaved
English
PDF Edition
E-book: 46 pages
Publisher: Bear's Cave (May 23, 2020)
Language: English
Gay adult BDSM comic in English.
On the eve of WW2, Tarzan-like hero is enslaved and tortured by an imperialist and a wicked merchant on the Malay Peninsula. Ex-King-of-the-Jungle turned into salacious whore, and is humiliated in public. Including rope bondage, forced milking, oral and anal sex, naked in public, whipping, etc.

Total 46 pages (4 pages introduction, 30 pages brand new comic, 8 pages bonus content + covers and credits).
Plus, on this English edition only, I added the comic pages from 'Bitch of the Jungle (Preview)' issue in 2018, as bonus content to this book.
Under the collaboration with Vincent, all texts includes onomatopoeias were translated into English.

The original Japanese book was planned to published on Yarou Fest 2020, but the event was canceled by COVID-19. I canceled to publish this story as paper printed book too, and released it as PDF only.
You can purchase and download it (PDF) from the links below.
Gumroad >> https://gum.co/HnrJbF
Booth >> https://tagame.booth.pm/items/2091714
DLsite English >> https://www.dlsite.com/ecchi-eng/work/=/product_id/RE289386.html